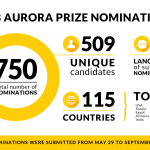 750 Nominations Submitted for the 2018…
Unique candidates for the Prize increased by 100%
In its third year, the Aurora Prize for Awakening Humanity has received 750 submissions for 509 unique candidates.
Open »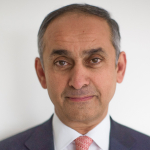 Lord Darzi Joins Aurora Prize Selection…
World famous surgeon and health policy maker…
The Aurora Humanitarian Initiative is pleased to confirm the appointment of Lord Ara Darzi to the Aurora Prize Selection Committee. The Selection Committee is comprised of a select group of humanitarians, human right activists and former heads of state, and is chaired by Academy-award winning actor and director, and a humanitarian in his own right, George Clooney.
Open »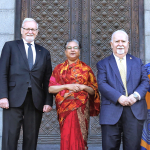 Dates Announced for the Third Annual Aurora…
Armenia to Host Aurora Humanitarian Initiative's…
The Aurora Humanitarian Initiative today announced that the 2018 Aurora Prize for Awakening Humanity ceremony, Aurora Dialogues and weekend of inspirational events, will take place June 8-10, 2018 in Armenia. Pre-eminent humanitarians, academics, philanthropists, human rights defenders, government officials, journalists and business leaders from around the world will gather for the purpose of galvanizing action to address today's most pressing humanitarian challenges and to celebrate the best of humanity. The weekend will culminate with the presentation of the third annual $1.1 million Aurora Prize, a global humanitarian award given to an individual for the exceptional impact their actions have had on preserving human life and advancing humanitarian causes. The laureate is invited to share $1million with organizations which inspire their work.
Open »